Troi Dialog Plug-in 6.5.1

FileMaker Pro 12 through 15 compatible

Troi Dialog plug-in adds powerful dialog functions to FileMaker Pro.

overview
|
download
|
details
| screenshots |
comments
|
buy-it
Screenshots
NOTE Each screenshot is taken on a certain platform. However all the dialogs work on OS X and Windows.
Show dialogs with variable text and up to 4 buttons
With the Dialog plug-in you can calculate the text and the buttons of your dialog box in a ScriptMaker Script. You can add data from fields and also change the labels of the buttons: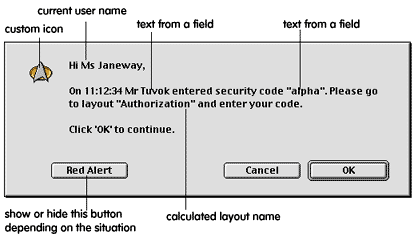 Show temporary flash dialogs
Show a flash dialog that will stay visible only for a fixed amount of time, for example 4 seconds. Great to give extra instructions to a user, without the user having to dismiss the dialog.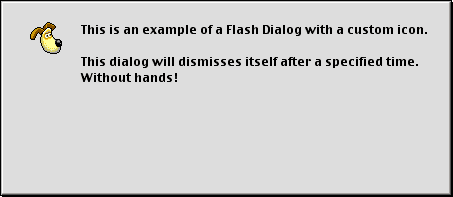 Let a user input text through a dialog
Show a dialog with up to 15 input fields, where the user can type text or a password (no need for a special bullet font to be installed!), choose an item from a pop-up list or mark a checkbox. All input fields can be filled with pre-entered values and you can specify in which field the input dialog will start. You can add a small or a bigger icon.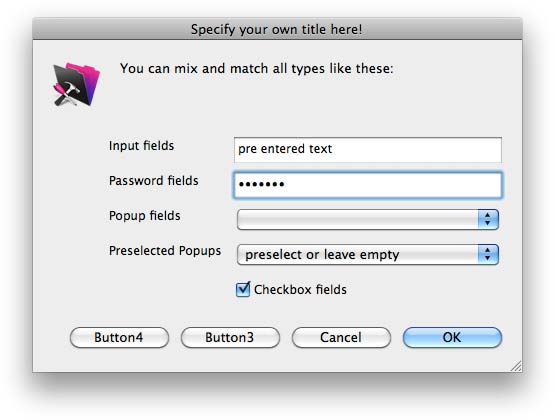 Unicode Support for text
Below is an example of higher Unicode support in Troi Dialog Plug-in. All Unicode characters like chinese, japanese, russian etc. are supported, not only in the prompts, but also in the input fields: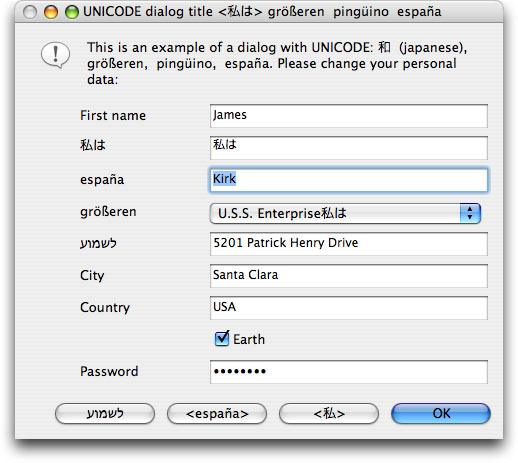 Show a password dialog
Lets users safely enter a username and password.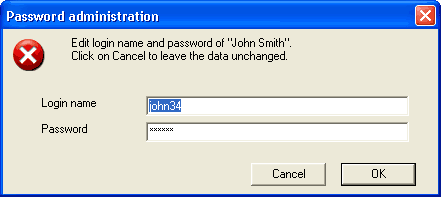 Show a progress dialog
For lengthy operations you can show a progress bar.

Show a list dialog
With Troi Dialog plug-in you can display a list dialog box, from which the user can choose an item. Note that the OK button is disabled until the user chooses an item. The list dialog box is completely customizable, including icons. You can even show your own icon!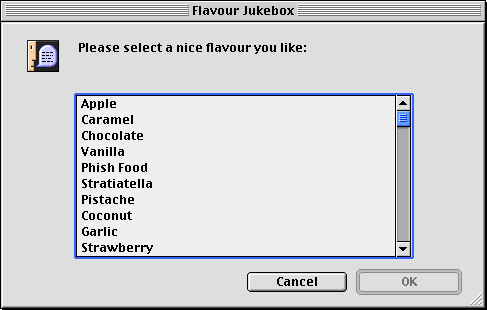 Show a big input dialog
With Troi Dialog plug-in you can display a big input dialog box, in which the user can type in (or edit) long pieces of text. You can specify how many characters the user needs to type before buttons are activated and also the maximum number of characters allowed. You can also pre-fill the text, set the size of the window, choose the title for the dialog (or leave it empty as in the screenshot below) and give it a standard icon or your own icon.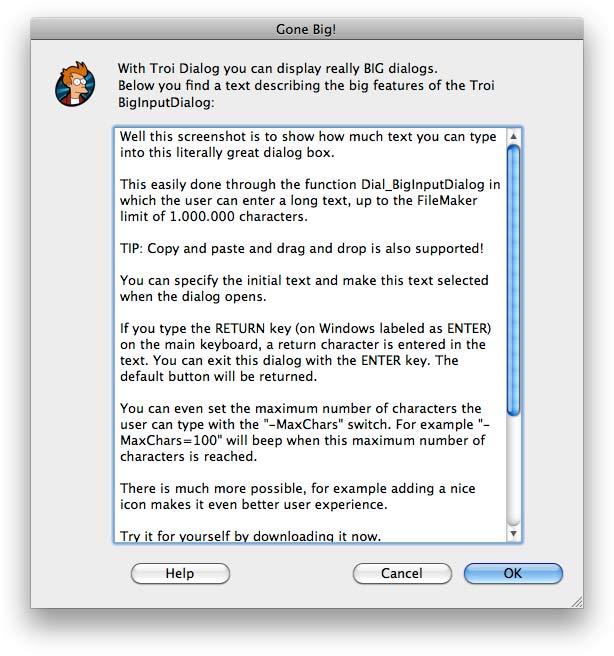 Use up to 15 inputs!
With Troi Dialog Plug-in you can display an input dialog with up to 15 different inputs! Enough for the most demanding jobs.